Lindores Abbey Rapid Challenge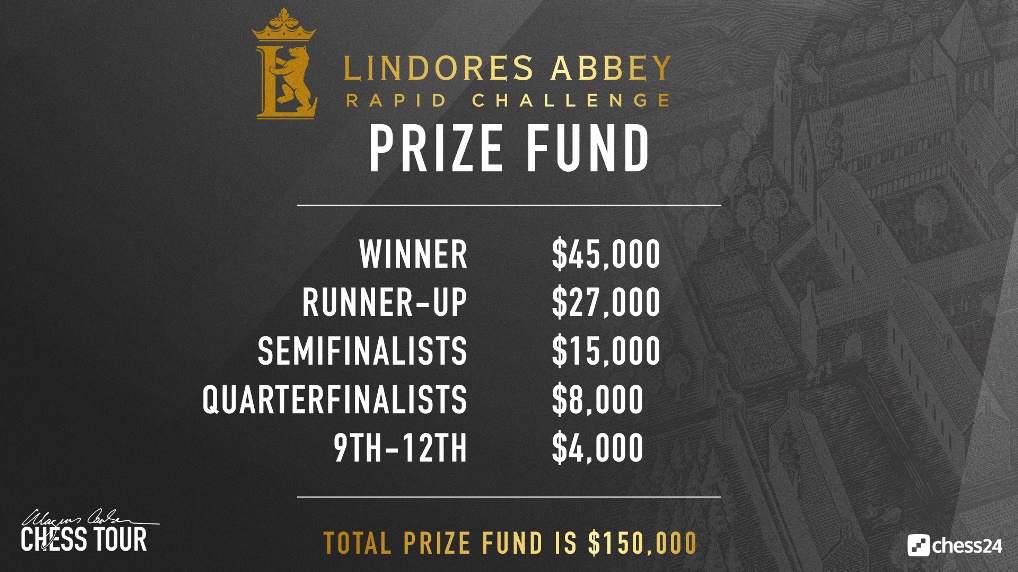 Dates:
May 19 - June 3, 4PM CET.
Information:
This time the preliminary stage will be held over just 3 days, with the players playing each other once in 11 rounds of 15-minute + 10-second increment rapid chess. The bottom 4 will be eliminated, while the remaining 8 players go forward to the quarterfinals.
The quarterfinals, semi-finals and final will all be best of 3 mini-matches (the first player to win 2 mini-matches wins), where each mini-match consists of four 15+10 rapid games. If a mini-match ends 2:2 a single Armageddon game will be played: White has 5 minutes to Black's 4 but Black wins if the game ends in a draw.
You can find the full regulations here (PDF).
Participants:
Magnus Carlsen, Ding Liren, Hikaru Nakamura, Alireza Firouzja, Alexander Grischuk, Levon Aronian, Wesley So, Jan-Krzysztof Duda, Sergey Karjakin, Wei Yi, Yu Yangyi and Daniil Dubov.
Stream: