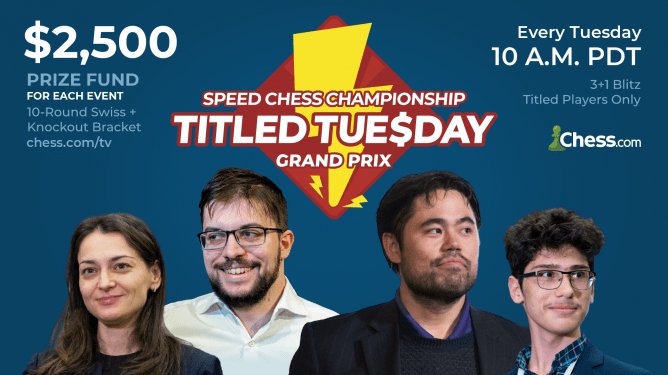 Dates:
Every Tuesday at 7pm CET / 1PM EDT
Information:
Beginning June 2, Titled Tuesday will be part of the Speed Chess Championship Grand Prix as a direct path to qualify for the 2020 Speed Chess Championship. Over the next five months, titled players around the world will earn grand prix points each week to inch closer to one of four coveted spots in the Speed Chess Championship.
Titled Tuesdays will have a $50,000 prize fund spanning 20 weeks, and will take place every Tuesday from June 2 through October 13. As an enhancement to the existing Titled Tuesday format, the 10-round Swiss tournament will now be followed by an eight player bracket to award bonus points and cash prizes.
With $2,500 in cash prizes available every week, players will look to improve their season score, as their eight best individual performances (excluding bonus points) will count towards the Speed Chess Championship Titled Tuesday standings. At the end of the season, the players with the four best grand prix scores will advance to the Speed Chess Championship to be hosted later this year.
NEW TIME CONTROL: 3 minutes plus 1 second increment, starting in March 2020.
Participants:
Titled players only
Stream: